Buy Small FacePlant Flower Pots
1 for under $25
3 for under $40
INCLUDES SHIPPING*

Wink & The Gun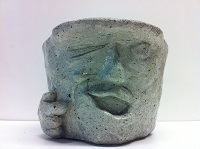 MORE PICTURES This is one of our most charismatic and most popular FacePlants with his smile, winking eye and pointing hand. The wink and the gun will make you smile every time you see him and he is a perfect gift item for just about anyone.

Pouting Peter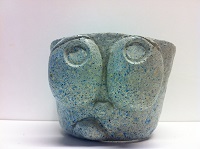 MORE PICTURES
Pouting Peter is adorable and a must have for any FacePlant collector. He has large cartoon like eyes and a small pouting lip and is a big favorite for children of all ages.

Cool Head Luke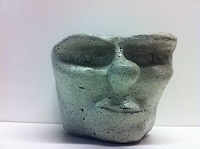 MORE PICTURES
Cool Head Luke has a protruding nose that is perfect for use as a stand for your eyeglasses when not in use. His subtle smirk and keen design make Cool Head Luke one of our most popular items.

The Professor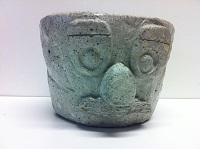 MORE PICTURES
The professor is an ideal gift for any person with a mustache (maybe even your aunt Ethel?) with his well groomed soup straining nose bug.

Easter Allan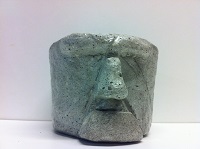 MORE PICTURES
Easter Allan is a tribute to the Moai heads of Easter Island. One of the original FacePlant statues and little brother of Easter Bob.

Robo Joe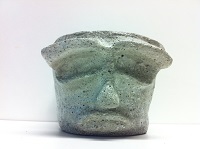 MORE PICTURES
Robo Joe has a large protruding brow with dramatic eyes that give him a cartoon-like look. Robo Joe is popular for children of all ages.

Smilin N. Garfunkel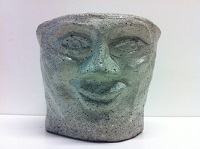 MORE PICTURES
Smilin N. Garfunkel is a cheerful and distinguished chap that will bring sunshine and happiness to your garden. His pleasant demeanor makes him a suitable gift item for any person.

Papa Ganoosh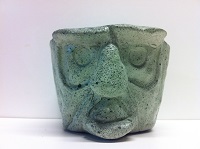 MORE PICTURES
Papa Ganoosh is everyone's Grandpa with his big nose, baggy eyes and protruding lower lip. One of our more popular FacePlant designs.

Banana Dan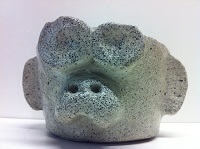 MORE PICTURES
Banana Dan is our largest 4" FacePlant statue due to his monkey tail and large ears. Satisfy your inner monkey and buy Banana Dan for your garden!

Some Pig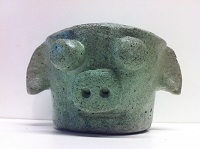 MORE PICTURES
This "terrific" FacePlant is just "some pig"...which is better than being "crunchy". He will look "radiant" in your garden and his "humble" cost makes him affordable!

Rocko Ruffhowzer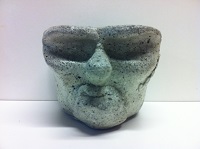 MORE PICTURES
Rocko is similar to Cool Head Luke with the addition of a sneer on his mug and a prominant scar running down the left side of his face.

Foxy Rocksy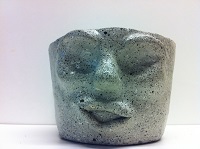 MORE PICTURES
Foxy Rocksy is the social butterfly of the FacePlants series. She will brighten up any room or garden...and she knows it!

Smart Alex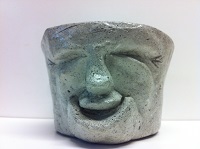 MORE PICTURES
Smart Alex is one of our newest designs. We were requested to make more smiling statues so Smart Alex was born.

Jinglebell Rock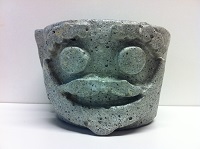 MORE PICTURES
Jinglebell Rock is the first on our seasonal FacePlants. Perfect Christmas gift for any holliday craft item collector

Donny Duckface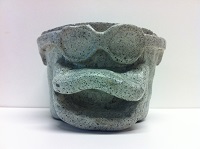 MORE PICTURES
Donny Duckface is always ready to have his picture taken. Who knew that ducks could be so cool? Donny Duckface - that's who!

Me Gusta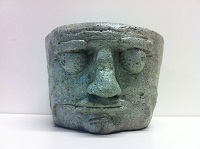 MORE PICTURES
What better way to say you like someone than with a Me Gusta faceplant. This internet meme inspired faceplant is sure to please even the most discerning neckbeard.

These FacePlants are made to hold standard 4" planting cups which are suitable for smaller plants and flowers, herbs, cacti, pens & pencils etc. There are two styles available which are open bottom pots for drainage and closed bottom planter pots for indoor use.


*Prices INCLUDE SHIPPING to Canada
1 FacePlant = $24.27 (Including Shipping)
Mix & Match Any 3 FacePlants for $39.87 ($13.29 each)
Mix & Match Any 6 FacePlants for $65.82 ($10.97 each)
Mix & Match Any 12 FacePlants for $102.96 ($8.58 each)
The more you buy the more you save. Faceplants are heavy like stone so save big by ordering in multiples! These prices are for the 4" FacePlants shown on this page.
Additional shipping charges will apply to USA and International orders.